The Eiffel Tower, B&W
Last Sunday, I went to Trocadero at night with a friend to admire the view of the Eiffel Tower and Le Champ-de-Mars you can enjoy there.
Of course, as usual, the place was overcrowded, despite the rain and the gushes of cold wind that were reminiscent of Autumn days. We've had to make our way through the numerous umbrellas to arrive at a low wall where we could, at last, enjoy the view and take pictures of the fantastic scenery that was lying before our eyes.
The rain on the ground made it look like a giant mirror reflecting the majestic beauty of the Eiffel Tower, which was shining bright in the darkening night. The clouds hovering over our heads were low, and the lights of the Eiffel Tower were reflecting in them, giving them a red and yellow tint which made the moment feel like the last dusk before the end of the world. All in all, I was the most happy man in the world to be able to enjoy this view with my friend by my side.
Despite the rain, which has ruined some of the photos I've taken (my lens doesn't like droplets), I've managed to save some photos and I'm glad they can illustrate this article and make this night memorable.
Paris definitely is a nice city to photograph, especially when you can share it with someone who's as able as yourself to be amazed at what you see.
Head in the clouds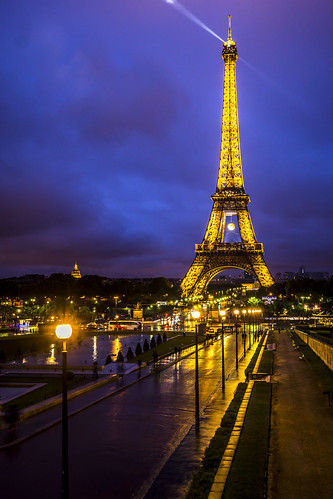 The Eiffel Tower, colour version
The Eiffel Tower from Le Champ-de-Mars